AGDC Scan Data Notifications Needing Attention Emails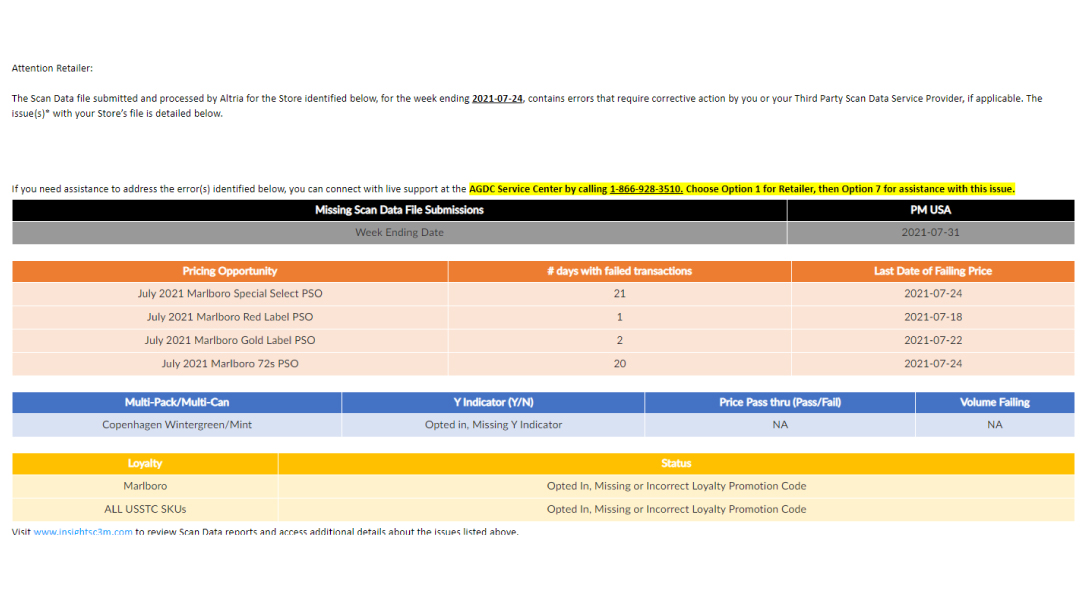 How to Reduce the Hassle of the Weekly AGDC Scan Data Emails
You may have noticed Altria / AGDC seems to have maxed the confusion dial from 10 to 11 lately — as we've noticed a sharp increase in support tickets related to their emails subjected: AGDC Scan Data Notifications Needing Attention.
Spinal Tap Movie Reference for the uninitiated.
Ways You Can Help Us, Help You
As a result of the confusion, we'd like to make sure we're able to help everyone out as quickly & effectively as possible. In many cases, we're finding that a majority of the notifications customers are receiving don't need any support action or could be eliminated with our rPosIO Pricer web app. So here's some guidance that may help:
AGDC Notifications & Their Meanings
No Multi-Pack Y Indicator
Ask yourself:
Did you sell that item this week?
Did you give discounts on the item that week?
If the answer is no, then you can ignore the notification.
If the answer is yes, then please send us a list of your current promotions:
[email protected]
Incorrect Can Eligibility Volume
What is Multi-Can Reporting Failing/Eligibility Volume?
You're only supposed to give the item on X number of transactions.

Ex: Only give it on 2's instead of 1's.

Most common cause can be when the multi-can discount is not correctly applied or you may not have inform us of the correct amount.

You may need to verify that there are not items receiving the discount that are not included in the promotion.

You may need to inform us on what the new amount is.
Pricing Opportunities
Many of these notifications can be resolved by utilizing our new rPosIO Pricer tool. Because your minimum / maximum prices may be set outside of the appropriate range and you can either use Pricer to immediately find out or consult with your Altria/AGDC Rep.
Missing / Failing Submission of Scan Data
If it's missing you can forward the notification to us and we'll confirm if that's the case. Also, keep an eye out for emails from
[email protected]
as we'll always let you know that if your submission is delayed and if we need help from you to complete it on time.
Scan Data Submission Opportunities
It could be that you're not receiving our response for help via
[email protected]
and as a result are late on the submission.