Introducing rPosIO Pricer + AGDC / Altria API
We've got some big news to share with you folks.
Managing tobacco pricing just got infinitely faster & convenient.
Insight Retail Software received access to AGDC (Altria) Price & Promotion API and immediately went to work to build a time-saving tobacco pricing application for our customers. It's seamlessly integrated into our cloud-based retail software platform, rPosIO Cloud, and makes tobacco pricing quick, convenient, and compliant for tobacco retailers through their Point of Sale (POS) systems and back-office software.
What's even more exciting is any active InsightRS Scan Data and/or Pricebook customers will be able to opt in to get access to Pricer for free.
rPosIO's Pricer + AGDC (Altria)'s Price Promotion API
AGDC (Altria) recently launched an API and gave access to a few select 3rd parties, like us, to enable retailers to get information from them in a more direct way than they've ever done before.
AGDC identified that most retailers waste precious time throughout the month dealing with tobacco prices in order to remain compliant & give their customers discounts. This process involves manually getting information to sales reps then waiting around for the sales reps to respond & provide support.
Most importantly, as of June 2021, AGDC put even more complicated pricing systems into place that makes managing tobacco prices even more complicated & challenging to adapt to as a small business operator.
InsightRS worked closely with AGDC to integrate our newly created, Pricer, with their AGDC Price Promotion API. This integration enables you to securely communicate with AGDC's API to receive Price and Promotion information specific to your store's Retail Program elections.
Pricer on a schedule, or by manual request, will retrieve your store's current pricing and allowances by Brand Family. For each family, then rPosIO's Pricer gives you instant access to the product's related API data. This allows you to make informed and timely decisions on your prices helping you stay in program compliance and maximize your tobacco profits.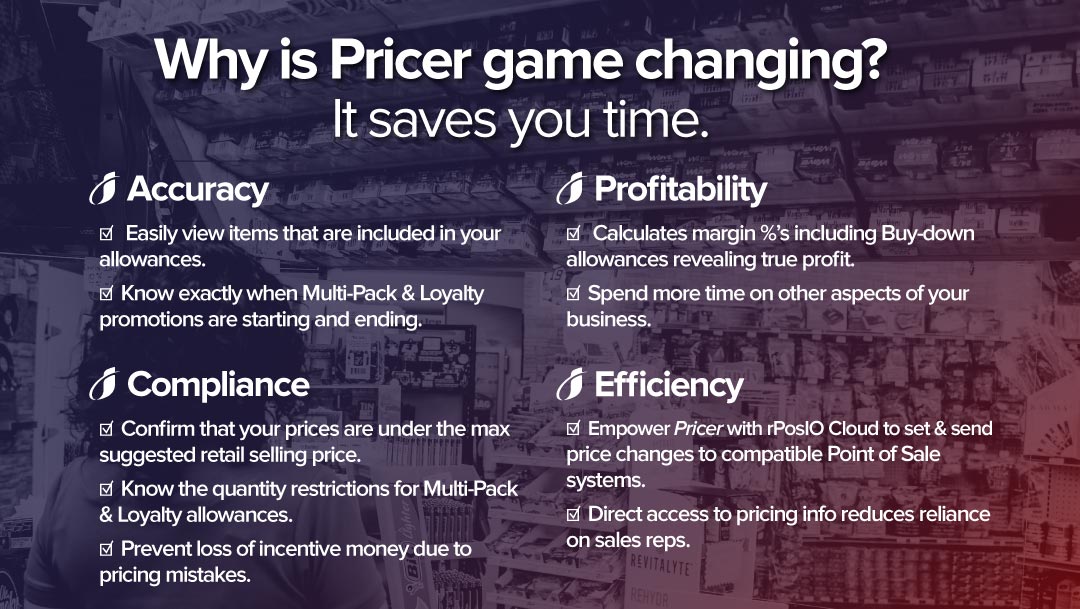 How do I sign up?
Retailers are required to sign Altria's API Access Consent Form indicating interest & consent to generate credentials for interacting with the API that are then shared with Insight Retail Software. 
Call

 

866-928-3510 (Option 4)
Let Altria customer service know you'd like to sign the consent form authorizing

 

Insight Retail Software

 

to access the API on your behalf.
Then proceed to the Insight Retail Software sign-up form found on https://insightrs.com/altria/ and submit your store & payment information. We'll then immediately schedule to get rPosIO's Pricer running for you.
Contact (856) 777-7226 or [email protected] for more information.