The final piece to the puzzle.
rPosIO Cloud POS + Our M1 Hardware
From our first independent liquor store installation 31 years ago, to the large chains we support today, there's one thing our customers have in common: the need for performance, reliability and value.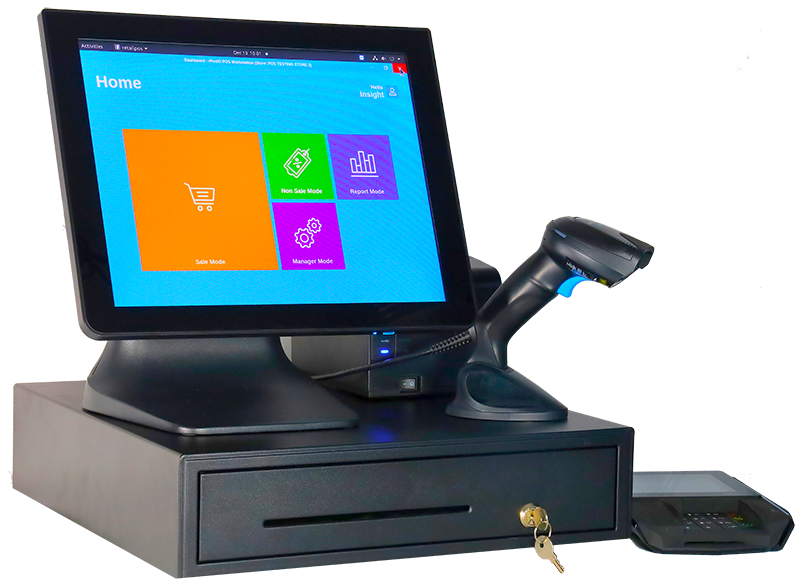 Complete Point of Sale Systems.
rPosIO Cloud POS + M1 Hardware + Us
30 years of point of sale experience has led to the rPosIO Cloud Retail Platform. The rPosIO Cloud POS is combined with hardware we have assembled called M1.  rPosIO Payments is available providing integrated credit with cash discount functionality. Our support experts are of course experts at helping you with our stuff. This retail solution is unequaled. 
Designed to improve checkout speed, reduce error, eliminate customer complaints & reduce cashier training time.
Lives in your store with a linux operating system, and our electron app. No worries if the internet goes down.
Perfectly integrated with your credit card company, so taking people's money could never be easier.
Sync at all times with your cloud backoffice™. Price- changes immediately take effect, and sales are available in real-time for ultimate control of your deal.
rPosIO Cloud POS Software
This software has it all.  Its fast, it's efficient, it's easy to use, its colorful.  It has awesome automatic discounting capability and customer loyalty options. It does EAVT age verification. New products and prices update instantly from the cloud and item sales history and inventory levels are immediately available in the cloud.  rPosIO Payments integrated credit with optional cash discount is also available.
What's Included….
Price Book and Reporting 

Point of Sale app

Handy Mobile App (IOS/Android)
Optional Inventory Module
Optional Scan Data Reporting (Altria, RJ Reynolds, ITG)
Carefully manufactured and assembled to provide awesome customer experiences…
We have worked with a partner in Hong Kong to design the M1, our AOI (All in one) POS terminal designed for performance, reliability and high value.  We use the outstanding Datalogic Gryphon 2D barcode scanner and the beautiful Ingenico Lane7000 contactless pin pad when using rPosIO Payments.  
What's Included….
M1 POS Terminal – 15″ True Flat Capacitive Touch Display, Intel 8th Gen i3 8145U Processor, 8G Ram, 128G SSD
M1 Printer – 260mm/s speed, 1.5M cuts, 80MM paper 
M1 Customer Display – 2 x 20 VFD

Datalogic Gryphon 2D Barcode Scanner

M1 Cash Drawer – 16×16 with Metal Bill Weights
Ships with all cables installed
Ships with software pre-installed
We've made it easy
We've chosen the hardware for you, and we are confident it will impress you today and tomorrow.
Fine tuning
We'll ask you questions about your operation, departments, medias, discounts, tax rates, etc.
Build your scan file
You can build your own database using our spreadsheet template and import tool.  We'll help you!
Configuration
We configure the system with your data & necessary settings.
Signed, sealed & delivered
After you receive the system we'll walk you through the steps to get everything operational.
We'd Love To Hear From You
1280 N Shore Rd.
Hadley, NY 12835
172 Cessna Dr.
Trenton, SC 29847
Pick your store type and we'll show you the way.