The Top Reasons to Upgrade from NCC to rPOSio
Complete Point of Sale Systems.
rPosIO Cloud POS + M1 Hardware + Us
     30 years of point of sale experience has led to the rPosIO Cloud Retail Platform. The rPosIO Cloud POS is combined with hardware we have assembled called M1.  rPosIO Payments is available providing integrated credit with cash discount functionality. Our support experts are of course experts at helping you with our stuff. This retail solution is unequaled. 
     Here are some reasons you'll want to switch to rPOSio……
1) State-of-the-Art Hardware and Software
     We use robust, high-performance hardware running Linux OS. Gone are the days of dealing with Windows updates that take an hour to install. We develop all of the software in-house, so we have total control.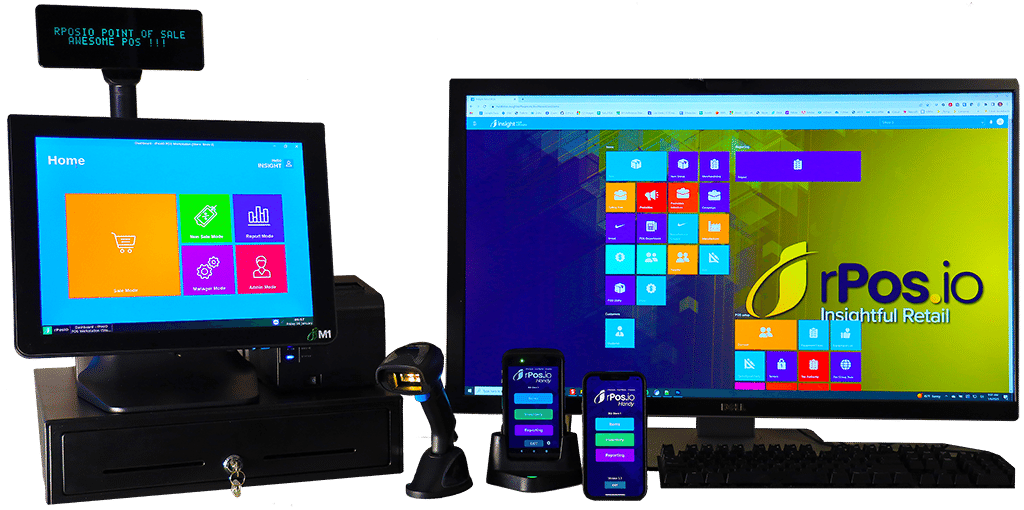 2) Eliminate Your Credit Card Fees
    Switch to our preferred credit card provider Winstar Payments and Eliminate 100% of your credit card fees. Integrate your credit card machine with the POS so you have less human error and theft. You also only have to reconcile once at the end of the night. When you work with Winstar you get one on one support, no more call centers and being on hold.

3) Cloud Synced Sales Data
     All sales and price changes update in real time, giving you up to the minute sales data. You can keep track of all of your gross sales, item sales, department sales, hourly sales, and more at any time, from anywhere!
     Here are just a few of the reports available from any browser….
Our all new Sales Ledger: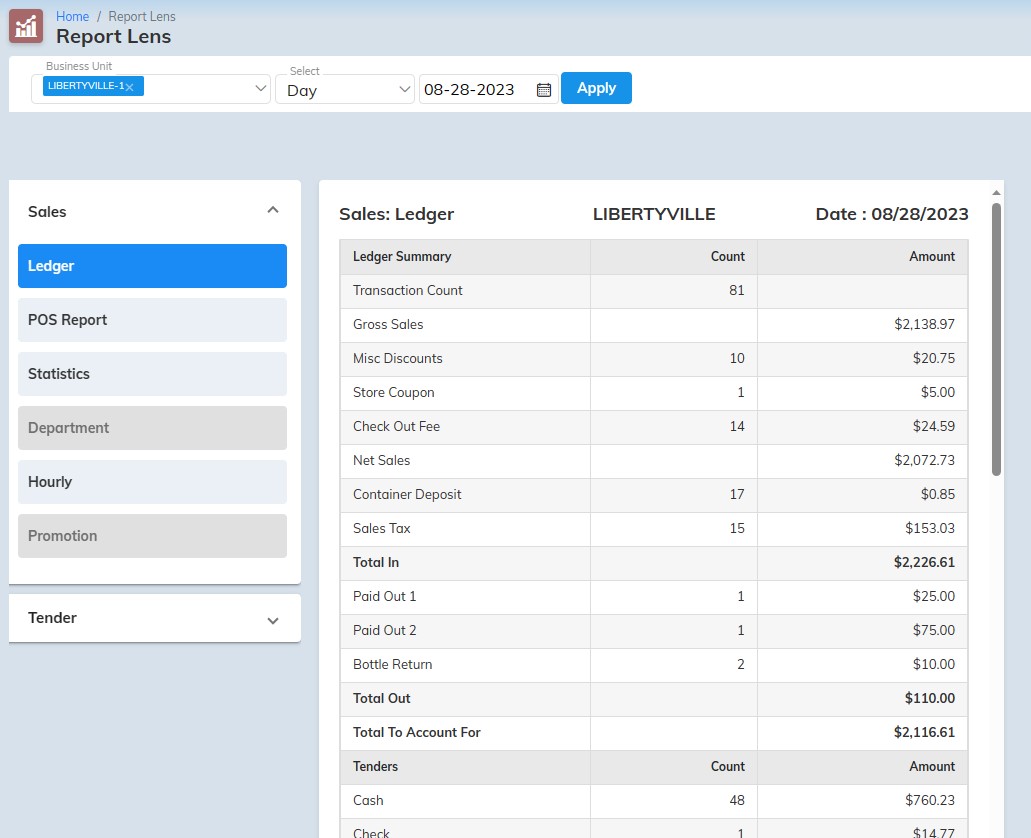 Retail transaction info… Whether you want to see a transaction from one minute ago, one year ago, or whenever!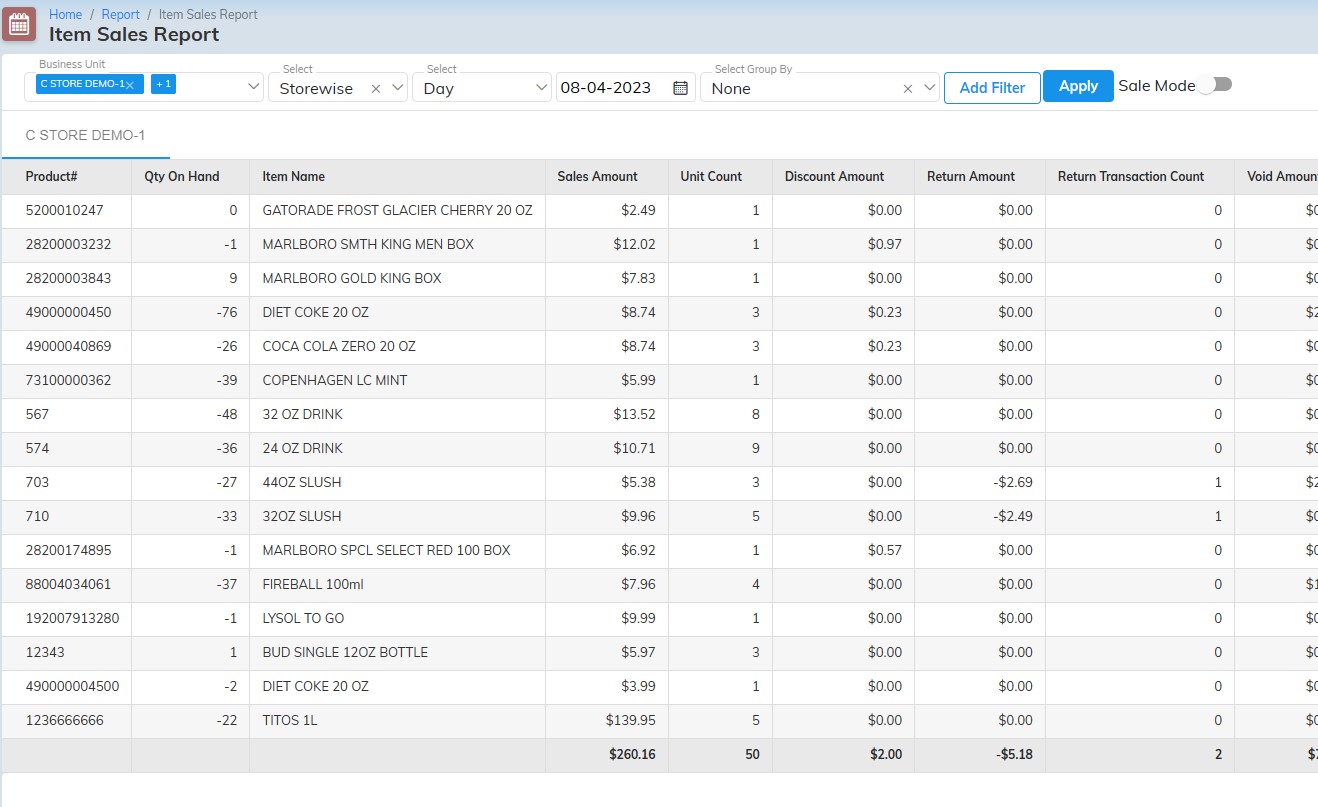 Department sales history: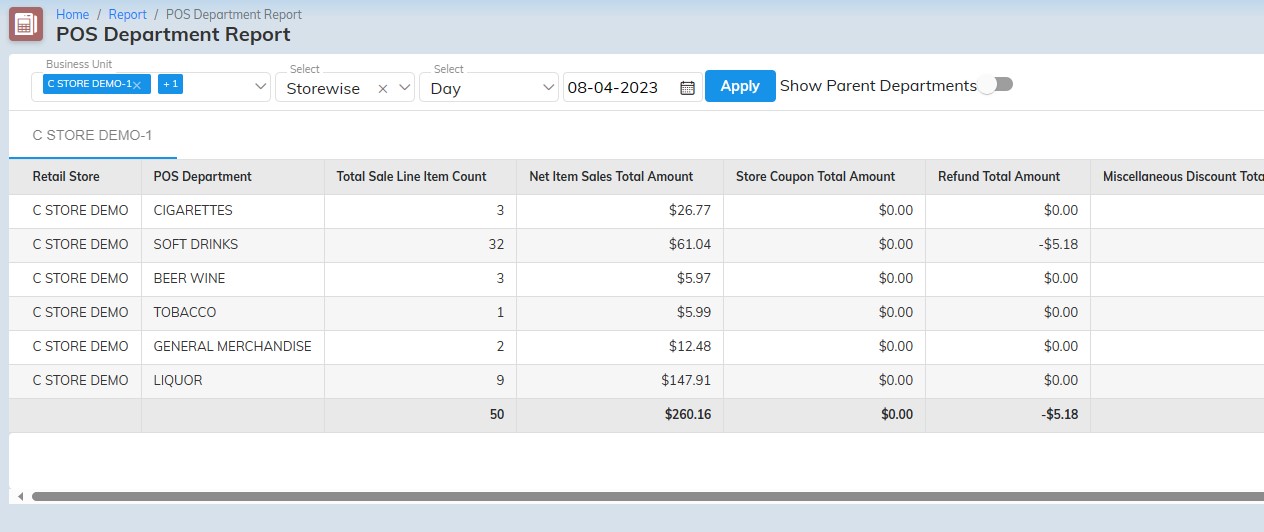 4) Handy App for Mobile
     Included in the rPOSio software suite is the iHandy app for iPhone/iPad and the aHandy app for Android. You can view simple sales reports and transactions, make price changes and add items, or do advanced inventory ordering and adjustments. The apps are ready and waiting on the Apple and Google app stores!
5) Scan Data
     The rPOSio software takes scan data to the next level!
     Take the responsibility of loyalty discounts out of the hands of your cashiers. Gone are the days of all of these buttons, where a cashier needs to know exactly which products are eligible for the discount.
     "Which button do I push?"
     "Are Skoal products eligible for the USSTC discount?"
     All of these buttons, spread all over the screen…..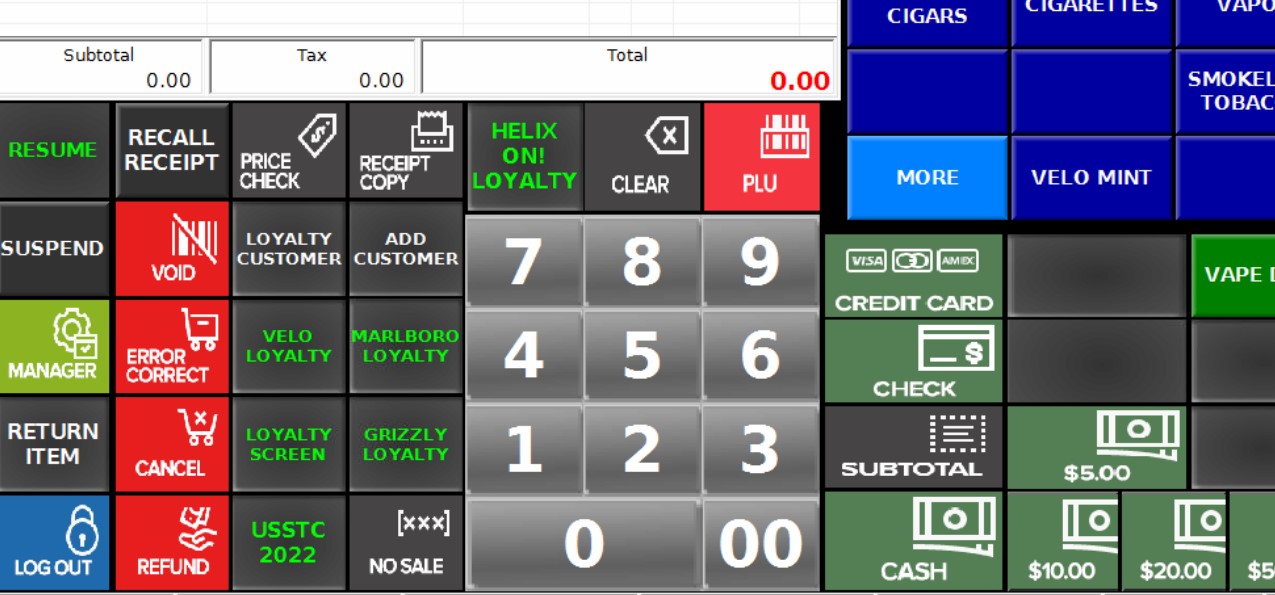 With rPOSio the loyalty discounts are set in the cloud, and once a loyalty phone # is entered, all discounts will be applied correctly and automatically. There is just one pretty little loyalty button…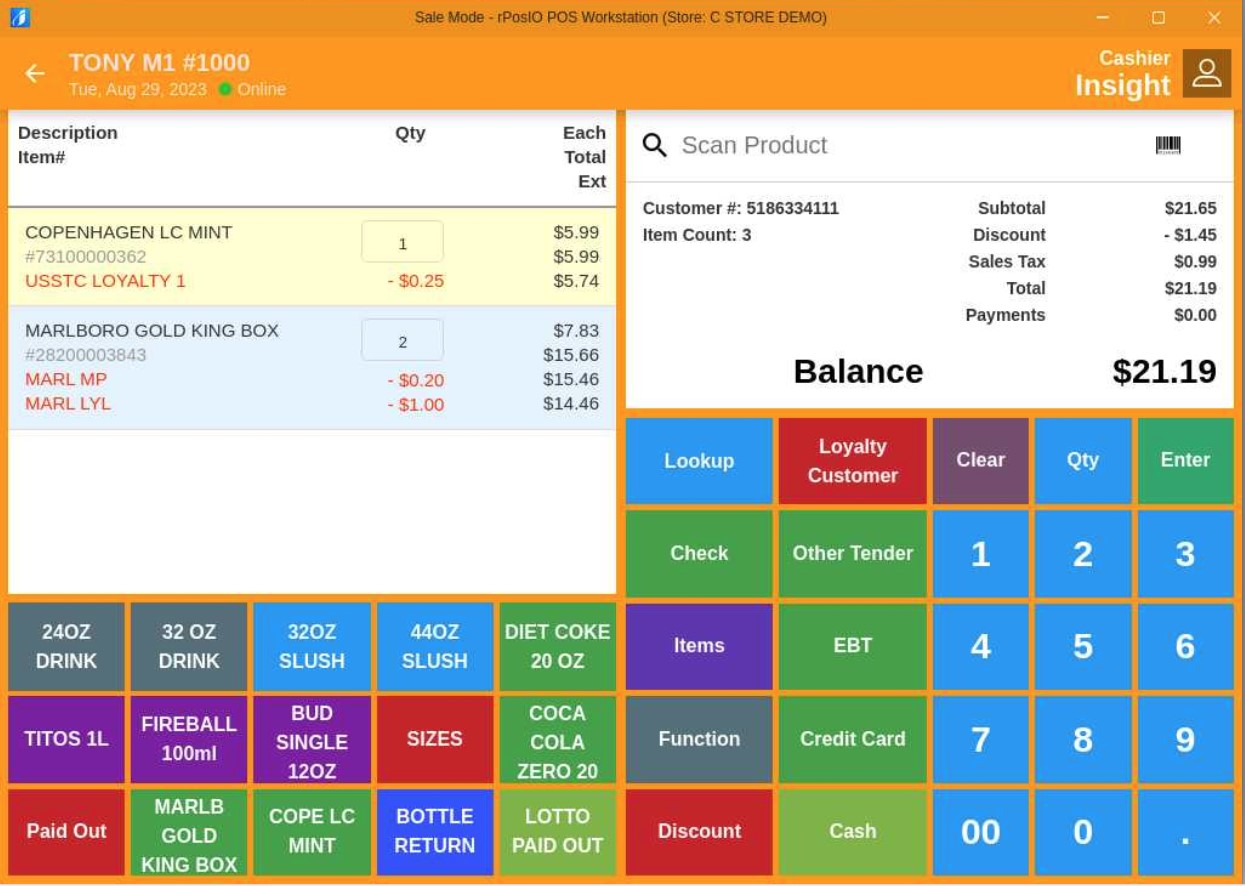 We have also partnered with Altria to create our Pricer app, which enables you to get your current scan data discount information and then make your price changes. This ensures your compliance with your current Altria deals and gives you complete control.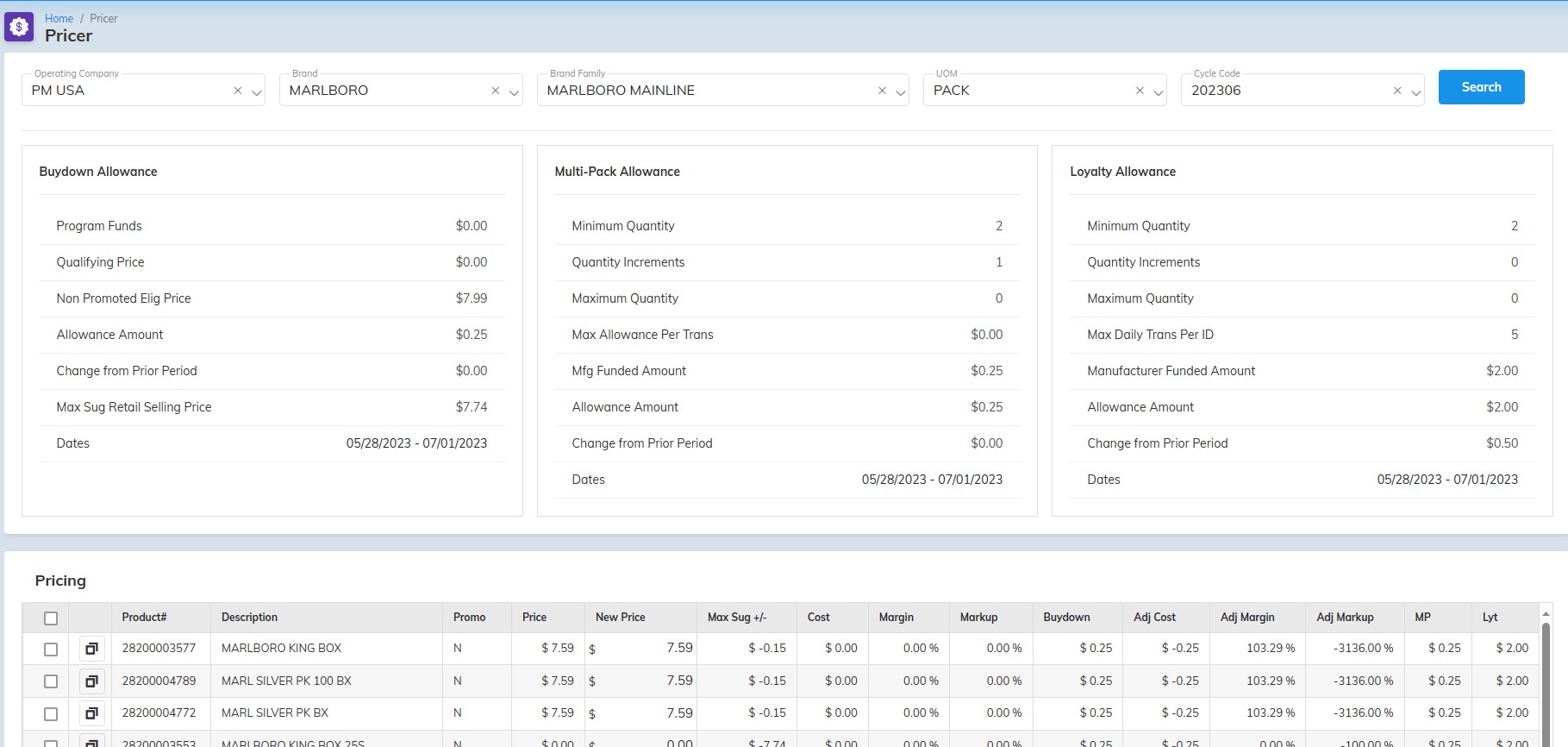 And while we're at it, why don't we see how our scan data discounts are doing? You can't do this with the old stuff!
6) Advanced Reporting
     You've seen some of the reports above, but it is just the tip of the iceberg.

7) Advanced Pricebook
     We're in active development creating new and innovative ways to make managing your pricebook more powerful. 
 – Detailed item edit – For when you want to get to the nitty gritty
 – Quick item edit – For when you need to make a quick change
 – Multi-item adding – Do you have 5 flavors of the same product to add? No problem
 – Sized-add – Selling a new item in single, 6 pack, 12 pack, etc.? We've got you covered
 – Import from Excel files to add or update items to 1 or 100 stores
8) Insight's Master Database
     We've got a database of tens of thousands of items that we can match up with your pricebook to get the most accurate descriptions, brands, sizes, etc. They can be synced with your items to ensure accuracy.
9) Work Anywhere with Just a Browser
     There is no back office software to install. All you need to access your database is the internet. Create as many accounts as you need, to allow access to employees working from anywhere. 
10) Backed by Amazon Web Services
     Your data is securely stored and backed up on AWS servers to ensure the most modern performance and security.
11) An Easy Transition
     We know moving to system can be a lot of work. We can export your old pricebook from your current back office software and import it into your new database. Our support team will work with you to set up all of your reports, POS screens, etc. so that you can transition easily and take full advantage of what rPOSio has to offer.